In the ever-evolving landscape of nonprofit fundraising and generosity, there's a common tendency to focus on the top donors who generously contribute large gifts to sustain our missions and programs. While their support is invaluable, it's crucial to recognize that the donor pyramid is vast, with untapped potential at every level. To truly maximize fundraising efforts, nonprofits need to leverage technology and personalized approaches to nurture relationships throughout the entire donor pyramid.
At the same time, advancement offices find themselves with more data than ever, without the benefits of clarity. There is a strong realization that harnessing fundraising data analytics is key to modernizing and equipping nonprofits to identify prospective donors, focus their cultivation efforts, and tailor engagement strategies to grow donor support and expand giving populations.
To assist nonprofits in this important work, JGA has partnered with Carnegie, a leading marketing and enrollment firm, to offer a new solution that integrates donor analytics with the power of psychometrics – Acuity Darts.
Acuity Darts is an innovative new actionable data solution that combines Acuity, JGA's donor identification and prioritization tool with the psychographic segmentation and custom personas from Carnegie's Darts. By combining these two important pieces of data into one tool, Acuity Darts tells you which conversations to prioritize and what exactly to say to those donors to grow their engagement.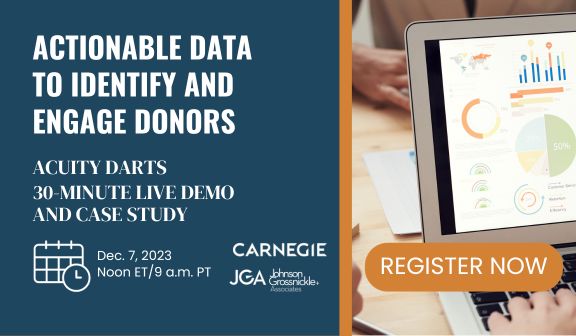 Growing Donor Relationships and Harnessing Motivation
Often nonprofits concentrate their efforts on the top of the donor pyramid, potentially excluding donors with great philanthropic capacity but not currently giving at levels at the top of the pyramid. An effective fundraising strategy recognizes the importance of engaging donors at all levels, ensuring a stable foundation for sustained growth.
As donors progress through their giving lifecycle, the right level of engagement and nurturing can lead them to increase their contributions over time. Donors who were once small to mid-level contributors can evolve into major donors as their philanthropic capacity and commitment to a cause grow.
Use your donor data to distinguish potential prospects and discover current donors your nonprofit can cultivate to foster stronger relationships and further develop the middle of the donor pyramid.
Actionable Data Strategies: The Catalyst for Success
Data analytics is seen as the game-changer in modern fundraising. By harnessing the power of data into implementable strategies, nonprofits can gain valuable insights into donor behavior, preferences, and capacity to give. Analyzing this information allows fundraisers to identify not only top donors but also individuals with the potential for increased engagement and larger contributions.
Acuity Darts helps you personalize all aspects of donor engagement through actionable data. Fostering true engagement and donor commitment is derived from identifying and addressing a donor's authentic personality, behavior, and attraction in conjunction with powerful wealth screening and engagement metrics that maximize staff efficiency and personalization at the same time. As a strategic data framework, Acuity Darts will transform the segmentation approach of any advancement office from annual giving, major gift operations, to planned giving and beyond through a powerful new combination of data and strategy.
Customized Messaging and Engagement: The Personal Touch
Understanding the motivations and preferences of your most promising donor prospects is essential for effective engagement. This is where the psychometric data and custom profiles in Acuity Darts can play a significant role. Acuity Darts uses demographic and psychographic data analysis to reveal your unique donor segments and what motivates them, which allows you to deliver highly personalized content to your donors.
Generic appeals may capture attention, but personalized communication establishes a deeper connection. Tailoring your message based on a donor's motivations, attitudes, and beliefs demonstrates a genuine commitment to the relationship, fostering trust and loyalty.
Actionable Intelligence to Guide Your Efforts
Effective fundraising is not a one-size-fits-all endeavor. By employing data analytics and personalized messaging, nonprofits can engage donors at every level of the pyramid. Acuity Darts provides a powerful tool that can help you build and maintain strong relationships with current and prospective donors. The results deliver not only data, but also actionable intelligence and customized guidance to help you quickly implement portfolio adjustments and develop personalized communications plans and messaging. You'll know who to talk to and what to say to them.
Are you ready to start building stronger relationships with your prospective donors and focus your advancement efforts? Contact Lee Ernst at 317.215.2406