Acuity Darts: Donor Identification + Prioritization + Personalization
Acuity Darts tells you which conversations to prioritize and what exactly to say. It provides you custom intelligence on your prospects' capacity to give, comprehensive giving history, and their motivations, attitudes, and beliefs.
JGA and Carnegie, two leading firms providing counsel to higher education institutions in the areas of advancement, enrollment, and marketing, have partnered to integrate cutting edge donor analytics with the power of psychometrics: Acuity Darts.
Acuity Darts is an innovative new solution that combines Acuity, JGA's donor identification and prioritization tool, with the advanced segmentation profiles in Carnegie's psychographic Darts. With Acuity Darts, you'll surface your best prospects and connect to them with messaging that speaks directly to who they are as individuals.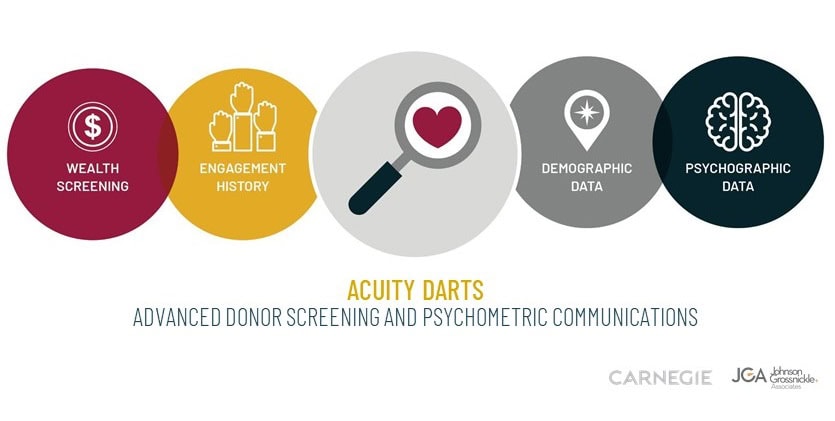 Precise Donor Screening and Personalized Solicitation Combining:
Wealth Screening
Engagement Analysis
Custom Demographics
Psychographic Identification
Donor Identification + Prioritization
Our Donor Identification and Prioritization allows you to forecast donor potential and focus your advancement efforts. Wealth screening, comprehensive giving history, and your engagement history are combined and analyzed to uncover a deeper understanding of the capacity and passion your donors have to support your organization. We pair the results with experienced guidance to help you structure an efficient prospect management plan you can implement quickly.
Donor Personas + Personalization
Our Psychographic Darts (advanced segmentation profiles) sets your communications apart with highly personalized messaging. Darts are developed through in-person qualitative research and survey-based quantitative research. We use your data and your community to identify correlations between demographic and psychographic factors that definitively reveal your unique donor segments and what motivates them. The resulting audience segmentation analysis augments your donor prioritization data and is your team's cornerstone for personalized solutions. Personal solicitations will lead to increased engagement, affinity, and conversions.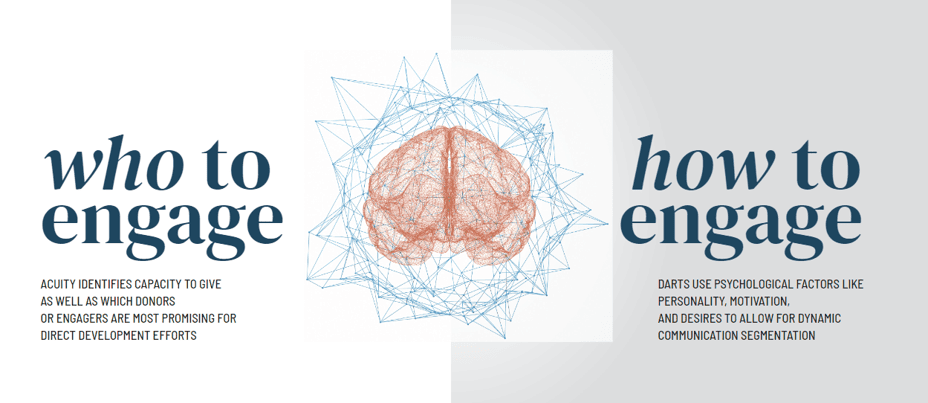 Acuity Darts Deliverables
Customized intelligence and prioritized donor prospect pipeline
Capacity analysis for all donor records
Year long Donor Search subscription and access to all records
Custom psychometric Darts (donor profiles outlining key behavioral characteristics)
Recommended cultivation action steps and recommendations
Communication and messaging strategies for your donors
Database tagging (a profile assigned to each of your prospect's records)
Easy-to-read Acuity Darts results dashboard
Acuity Darts training and presentation to leadership
Ready to innovate? We're currently seeking partners.
Contact Lee Ernst at 317.215.2406 or lee@jgacounsel.com