Complimentary Webinars
JGA routinely conducts free webinars to share insights on issues of importance to nonprofits. Please register to join us for our upcoming webinar or listen to a recording of one of our past webinars.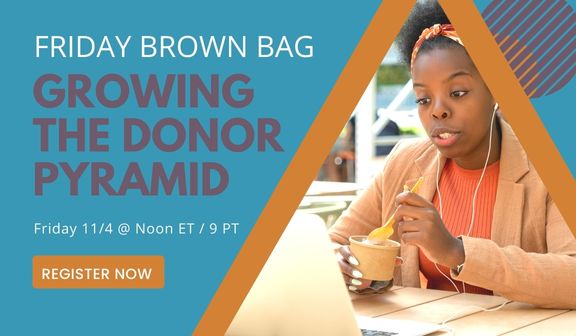 FRIDAY BROWN BAG: Growing the Donor Pyramid
Recorded: Friday, November 4, 2022
Recent trends in philanthropic giving have placed increasing emphasis on the top of the donor pyramid. But, it is important not to forget the importance of growing the middle of the gift pyramid as well.
How are changes in the philanthropic landscape impacting the donor gift pyramid?
What techniques can you use to engage more donors and grow the middle of your gift pyramid?
What are the giving characteristics of Gen X and Millennial donors, who are likely to comprise the middle of your gift pyramid, and how can you better engage them?
Bring your breakfast, lunch, or snacks, depending on your time zone, and join JGA as we explore ways to grow the middle of the donor pyramid. Angela White, Senior Consultant and CEO, and Lee Ernst, Senior Consultant, will provide a 30-minute presentation providing specific how-to's to grow the mid-level donor support. Then, they'll moderate a 30-minute Q&A session among attendees answering questions and brainstorming anonymous prospect scenarios.
Previously Recorded Webinars
---
GIVING USA 2022: A REVIEW OF TRENDS IN PHILANTHROPY FOR 2021
Recorded: June 22, 2022 Watch Now
Did the trends we saw emerging in the first year of the pandemic continue into 2021? What do these trends show us is likely to happen with giving in 2022? Join JGA as we once again welcome Anna Pruitt, Managing Editor of Giving USA, to lead us in a discussion of the insights and implications for nonprofits from the new release of "Giving USA 2022: The Annual Report on Philanthropy for 2021."
IS IT TIME FOR A FUNDRAISING CHECK-UP? UNLOCK YOUR PHILANTHROPIC POTENTIAL WITH A DEVELOPMENT AUDIT
Recorded: April 21, 2022 Watch Now
A development audit is a great "barometer" to measure the capabilities of your development office and to establish goals and strategies for future success. Even the strongest development department can benefit from a check-up from time to time. This presentation will highlight key opportunities when it would be advantageous to conduct a development audit and explain how a development audit can help you raise more money now and in the future.
You'll learn:
Four key indicators that you might benefit from a development audit or assessment.
The components of a development audit and the types of actionable deliverables you should expect.
Examples of peer benchmarking data and how to identify peers and accurately apply benchmarks to your organization.
RECRUIT AND RETAIN ADVANCEMENT TALENT IN A TIGHT JOB MARKET
Recorded: March 17, 2022 Watch Now
Several factors have converged to create an unprecedented demand for seasoned, successful fundraisers. Join us as we welcome nonprofit search expert Laurie Woodhouse with Woodhouse Executive Search to discuss what is driving this change and keys steps for nonprofits needing to fill positions and staff up in this competitive market. We'll also explore best practices for retaining and growing existing employees in today's dynamic workplace culture and share how to assess advancement staffing needs to ensure future fundraising success for your organization's mission.
You'll learn:
Trends impacting the Great Resignation and the effects on recruiting in the current environment;
Implications for nonprofit leaders hoping to attract and retain top talent; and
Strategies to assess and align your staff and fundraising capacity.
CONSIDERING A FUNDRAISING CAMPAIGN – DO YOU KNOW IF YOU ARE READY?
Recorded: February 23, 2022 Watch Now
Many organizations are considering launching a campaign in 2022. Is your organization one of them? Join JGA as we explore key characteristics of successful campaign planning and identify the elements you need to ensure are in place before launching this crucial fundraising effort. A campaign is an important investment and early preparation can maximize your success.
During the webinar, we will discuss:
steps to gain organizational support for your campaign vision,
assessing your internal infrastructure to support a campaign,
methods to engage volunteers,
key strategies to engage donors and prospects, and
ultimately, how you can identify if your organization is ready to launch a successful campaign effort.
STRATEGIC PLANNING IN THE PANDEMIC
Recorded: January 26, 2022 Watch Now
In today's environment, many organizations have been responding to the immediacy of the pandemic while their long-term strategic planning has been in a holding pattern. Addressing immediate concerns has taken priority over strategic planning – and many organizations are now asking how to successfully plan in this changing environment.
Join JGA for a webinar to discuss key components of the planning process today:
Identify what has changed in your current environment. How do you define the "new normal"?
Review your current strategic plan. How can you leverage the "new normal" to align your vision and your goals?
Focus on flexibility. How can you incorporate multiple scenarios into your plan?
Engage the brightest minds. How can you expand your planning circle to engage new thinkers?