According to Giving USA 2019: The Annual Report on Philanthropy for the Year 2018, American giving reached $427.71 billion in 2018, an increase of 0.7 percent in terms of current dollars but a decline of 1.7 percent from 2017, when adjusted for inflation. Even adjusted for inflation, charitable giving reached its second highest level ever in 2018, second only to 2017. Thus, 2018 is seen as a very strong but complex year in terms of philanthropy.
What this Means for Colleges and Universities:
After four years of consecutive growth, Giving USA estimates that giving to the education sector (which includes colleges, universities, and other educational institutions such as libraries as well as K-12 schools) declined in 2018. Specifically, giving to education organizations totaled an estimated $58.72 billion in 2018 (a decline by 1.3% in current dollars and 3.7% when adjusted for inflation).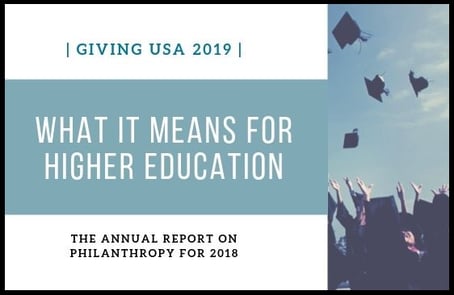 However, while giving to education organizations overall fell slightly in 2018, there is some positive news regarding giving to higher education specifically. The Voluntary Support of Education (VSE) survey found that total contributions to higher education reached their highest levels ever in the 2017-2018 academic year. Indeed, VSE found that giving to these institutions was 7.2 percent higher than in the year previous. According to the survey, contributions from all donor types increased with the most notable gains from non-alumni individuals and organizations other than corporations and foundations. Respondents to the VSE survey also reported that giving from donor-advised funds (DAFs) increased 65.8 percent over last year.
Online giving represents a small (5.4 percent of total fundraising) but growing (1.1 percent over 2017) source of donations for higher education organizations, according to the Blackbaud Institute's Charitable Giving Report: How Fundraising Performed in 2018.
Giving USA also reports that large donations—often received in response to campaigns—are becoming more common and a central focus for higher education. The Blackbaud Institute's donorCentrics Annual Report on Higher Education Alumni Giving found that while more money is being raised, it is coming from fewer donors. These gifts are enabling institutions to address challenges and even alter the way institutions are run. Indeed, Giving USA reports that several colleges avoided closure altogether as a result of philanthropic support and others have been able to decrease or eliminate tuition payments by students due to major gifts.
It is notable that certain provisions of the Tax Cuts and Jobs Act may have affected giving to higher education in 2018 and continue to do so in the future. The new tax law, implemented in 2018, enacted a 1.4 percent tax on the net investment income of private colleges and universities with more than 500 enrolled students and assets valued at over $500,000 per student. Giving USA notes, however, that only a small number of schools are affected by this provision.
Suggested steps for maximizing fundraising within this context include:
Get (and stay) personal. As noted above, contributions to higher education from all donor types increased in the 2017-1018 academic year and, even though individual giving decreased overall last year, it still makes up the lion's share of philanthropic gifting at 68 percent. Keep your relationships with individuals (alumni or not) as a central focus for your organization. Know what matters to them and craft your case for support and stewardship efforts accordingly.
Identify and engage donor-advised fund (DAF) donors. Growth in giving from donor-advised funds continued in 2018 and it will be increasingly important for higher education organizations to build individual donor relationships in order to understand the role of a DAF within individual giving.
Be knowledgeable about changing tax legislation and what it means for you and your donors. The full implication of the new tax legislation on charitable giving are just beginning to reveal themselves. As donors and recipient organizations begin to realize how the legislation affects them specifically, it is critical that those of us in the nonprofit sector understand and are able to guide our institutions and prospective donors strategically.
Source: Giving USA 2019: The Annual Report on Philanthropy for the Year 2018, published by Giving USA Foundation, a public service initiative of The Giving Institute, researched and written by the Indiana University Lilly Family School of Philanthropy.