Giving USA Foundation has released annual estimates of charitable giving for 2019, showing that giving reached more than $449 billion—including $64.11 billion, or 14%, to education—amid a strong economy. Giving USA 2020: The Annual Report on Philanthropy for 2019  reports Americans gave $449.64 billion in 2019. This marks the third year of growth with the highest giving levels ever seen—over $400 billion—driven by individuals as the largest source of charitable gifts. Total giving reflects an increase of 4.2% in current dollars and of 2.4% in inflation-adjusted dollars from 2018. These numbers demonstrate a robust pattern of giving, bolstered by a strong economy.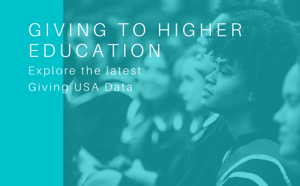 Overall top 2019 trends included:
Three out of four sources of giving increased. Giving by individuals, foundations, and corporations posted solid increases—including giving by corporations increasing by 13.4%—while giving by bequests remained largely flat.
While individuals remained the largest source of giving, they notably comprised less than 70% of overall giving for the second year in a row since 1954. This does not mean that individual giving has decreased but rather that the mechanisms of giving have changed, with more giving by family foundations and bequests.
Giving to education and every other subsector, except international affairs, grew—up from two subsectors experiencing growth in the previous year. This occurred both in terms of current dollars and inflation-adjusted dollars.
Key 2019 trends specific to giving to education were:
Total giving to education totaled $64.11 billion—a 12.1% growth in current dollars given (10.1% when adjusting for inflation) from 2018 to 2019—and the highest inflation-adjusted value to date.
Giving specifically to higher education institutions grew 6.1% from 2018 to 2019, according to Council for Advancement of Education (CASE).
Online giving grew 7.0% from 2018 to 2019, as reported by Blackbaud Institute. Online giving to higher education institutions represented 5.6% of all giving to the education subsector.
Deeper Analysis and Relevance for Colleges and Universities in 2020
Giving USA trends show that giving to the education sector, which includes colleges, universities, libraries, K-12 schools, and other education institutions, increased four of the past five years, including in 2019. Giving to education has been strongest in the last four five-year periods. The 2019 results occurred in context of a favorable environment for charitable giving, where economic strength underpinned very positive giving patterns and precedes potential challenges that may occur in 2020, considering economic, health, political, and social challenges.
Foundation gifts and large gifts to education grew significantly and heavily impacted positive higher education giving trends in 2019. While these gifts were made across all areas of the education subsector, they are well-represented in higher education. Some interesting points within the area of large foundation and major gifts include:
Foundation giving grew by 21.3% and represented 34.3% of all giving to higher education institutions. Notably, the largest foundation grant was four times larger than the next largest foundation grant.
Eight single donors also gave $100 million or more, representing 4.5% of all funds raised.
The top 50 U.S. donors gave $15.8 billion to all charities in 2019, including $4.7 billion (29.7%) to colleges and universities.
Substantial gifts were given to address socio-economic inequities in higher education, notably including support for first-generation college students, those from low-income families, and students from underrepresented backgrounds.
Community colleges are experiencing fundraising growth, especially in gifts of $1 million and above.
Top considerations for foundation giving to colleges and universities were leadership strength, student demographics, student success, innovative ideas, and willingness to adopt new models. Foundations were also inclined to support consortia of schools to achieve higher impact through a single grant.
As markets shift in 2020 patterns with large foundation and individual donor gifts may also shift, though foundation giving trends tend to lag, so any negative effects may not be felt by that source until 2021.
Overall giving by alumni and non-alumni individuals continued to decline. Alumni support represented 22.6% of the total support in the academic fiscal year 2019, falling 7.9% from 2018. Yet, this still represents a significant constituency in terms of overall giving to higher education institutions. Donor Advised Fund giving also declined by 17.4%, but gifts from other organizations as a whole (including Donor Advised Funds, federated funds, and religious organizations) grew by 19.6%. Gifts by corporations also grew 1.0%.
Gifts from controversial donors received heightened attention—and also raised questions for fundraisers and universities—notably around admissions, gift acceptance, and naming policies.
Key 2020 Actions
In context of these trends and the current climate, consider taking these steps to maximize fundraising:
Major and lead gift fundraising: Prioritize major and lead gift fundraising and support in higher education advancement team structures to maximize outreach to current and potential major donors.
Alumni outreach: Focus on alumni and individual outreach efforts. Track engagement of these groups in multiple ways beyond gift transactions and utilize data analysis to identify and screen those who should be cultivated for a major gift level, to ensure efforts with the wider donor base are prioritized.
Address inequity: Integrate and clearly promote giving opportunities that address inequities. Consider featuring related opportunities in any campaign efforts being planned.
Online giving: Maximize online giving opportunities and promotion to take full advantage of the growth in giving through this platform.
Gift acceptance policies: Affirm institutional values and ensure gift acceptance policies are in place and reflective of your institution's values. Include an ethics clause stipulating under what conditions you reserve the right to remove or modify the recognition. Encourage donors to seek their own tax or legal counsel before making a gift. Publish policies on your institution's website.