As we connect with our donors to inspire 2021 year-end giving and look ahead to 2022, it is smart to reflect on what we learned in 2020. What were the philanthropic trends in year one of the pandemic? What can we learn from these trends to maximize year-end giving and launch your plans for 2022?
Giving remains driven by individuals, so how are you strengthening your relationships with individuals and understanding their motivations for giving? In addition, how are you working with Foundations and increased giving through Donor Advised Funds? Although the future seems uncertain in many ways, our donors continue to share their generosity and engage with us in moving charitable missions forward.
GIVING USA 2021: GIVING SOURCES KEY TRENDS & ANALYSIS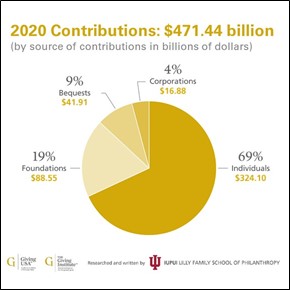 Giving USA Foundation annual estimates of charitable giving for 2020 show that giving reached more than $471 billion—a 3.8% inflation-adjusted increase from 2019. Giving USA 2021: The Annual Report on Philanthropy for 2020 reported a fourth year of growth, with the highest recorded giving levels to date.
Giving remains driven by individuals—including bequests—supported by strong growth in foundation giving. The COVID-19 pandemic, racial and social justice movements, and economic need were significant influences on 2020 giving patterns.
Individuals
Giving by individuals increased 2.2% in current dollars from 2019—totaling an estimated $324.10 billion, or 69% of all gifts made. While this was the second year that individual giving totaled less than 70% of all sources, individuals remain the dominant giving source. This was tied largely to the continued outsized impact of megagifts and giving to donor-advised funds. When considering gifts from family foundations and bequests, individuals play an even more influential role.
New donors and the total number of donors also rose rapidly in 2020. One source indicated increases of 7.3% in donors and 10.6% in donations.
Retention was a challenge. While the number of donors increased, donor retention declined by 4.1% compared to 2019, to 43.6%. New and repeat donor retention rates fell by 9.2% and 3.9%.
Average U.S. households experienced multiple factors that impacted giving, including immediate pandemic effects—though they still reported supporting local businesses by ordering takeout and paying for undelivered or cancelled services, such as haircuts.
High-net-worth household activity included nearly half giving to pandemic relief and many gave grants through donor-advised funds.

Wealthy Americans had significant 2020 increases in net worth and set new giving records.
Philanthropy 50 donors (The Chronicle of Philanthropy) are the most generous U.S. donors, including individuals and estates. The top 50 increased from giving $16 billion in 2019 to $24.7 billion in 2020—more than triple the total given in 2018.
Individual fundraising tips: Concentrate on higher-capacity individuals, overall retention strategies, strengthening online giving, and strong overall relationship management (cultivation and stewardship).
Foundations
Foundation grantmaking by independent (private and family), community, and operating foundations increased 17% in current dollars to $88.55 billion and reached an all-time, inflation-adjusted high. Foundation giving is marked by consecutive increases in the dollars given for the past ten years and continued growth in the share of overall giving by sources—reaching 19% of all contributions in 2020, the highest share for this sector on record.
The stock market's strength bolstered foundation assets and giving.
Foundation funding trends included quickly responding to current issues, providing pandemic relief and supporting racial justice and equity efforts while also examining their own practices in relation to these issues. Foundations were more receptive to supporting operations and quickly adapted guidelines to be responsive to current needs and issues.
Donor-advised funds (DAFs) continue to play a major role in foundation giving. Community foundations in one sample increased grantmaking from DAFs by 41%, and larger percentages of DAF funds are being awarded, compared to dollars given.
Foundation fundraising tips: Continue to develop relationships with foundation funders, report key data, and share your mission impact in alignment with their funding priorities.
Bequests
Bequest giving grew by more than 10% and comprised 9% of total contributions, totaling an estimated $41.91 billion. The total dollar value increased 9.0% (inflation-adjusted) and the share of all bequest giving also increased from 2019. Estimated bequests from estates with assets of $5 million or more totaled $22.07 billion, and those from estates of $1 million to $5 million totaled $8.61 billion, with the remainder of $11.24 billion given by estates of $1 million or less. Note that bequest giving can fluctuate year to year due to very large gifts in some years. About five percent of estates continue to leave a charitable bequest each year; despite recent tax law changes.
Bequest fundraising tips: Promote (or develop) your planned giving program and connect with loyal, recurring, and major gift donors to discuss and share planned gift opportunities.
Corporations
Corporate giving decreased by 6.1% and totaled just 4% of all contributions, at an estimated $16.88 billion. Corporate giving includes cash and in-kind contributions made through corporate giving programs and grants and gifts made by corporate foundations. Results reflected the impact of the unsteady economy. The 2020 U.S. Gross Domestic Product (GDP) declined 2.3% from 2019, a typical indicator that affects corporate giving. Corporate pre-tax profits declined 3.5% from 2019.
Corporation fundraising tips: Look for creative ways to maintain relationships with corporations, even if financial support has decreased—such as in-kind gifts and subsidized services. Examine whether to include corporations in strong-performing markets in your outreach.
You may download a free copy of the Giving USA 2021 highlights or order your full copy at givingusa.org.
Giving USA 2021: The Annual Report on Giving for 2020 is published by Giving USA Foundation, a public service initiative of The Giving Institute, and is the longest running and most comprehensive report on charitable giving in America. Giving USA is researched and created by the Indiana University Lilly Family School of Philanthropy. JGA is a member of The Giving Institute.