Building a systematic major gifts program can have a dramatic impact on your fundraising ROI (Return on Investment). Establishing a major gifts program that is systematic involves creating a purposeful, organized, and ongoing program for identifying and cultivating relationships with donors that leads to solicitation and stewardship of major gifts.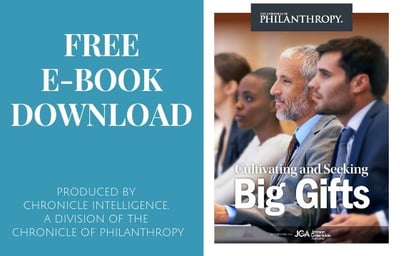 A successful major gifts program also entails focusing your efforts on those prospects who are likely to make the largest financial impact on your organization. A sharper focus on your top prospects will allow you to better steward your institution's resources and work more effectively and efficiently.
We believe success in securing major gifts is so important for nonprofits, that Johnson, Grossnickle and Associates (JGA) partnered with the Chronicle of Philanthropy to provide a curated collection of Chronicle articles and JGA insights on major gift fundraising.
In this collection of articles produced by Chronicle Intelligence, a division of the Chronicle of Philanthropy, you'll learn tips to strengthen your major gifts program.
In addition to the insights in the articles, here are six key elements for enhancing your major gifts program:
Focused Approach: Concentrate your efforts on the top 10 or 20 percent of your prospects —or whatever is the right number for your organization. Go beyond gift size to look at other factors that might predict a prospect's commitment to your organization—future giving potential, recency and frequency of gifts, and overall involvement with the organization.
Relationship Management: In systematic major gifts programs, a staff member is assigned to oversee the relationship and to create the strategy to move the prospect through the continuum from cultivation to solicitation and stewardship. The relationship manager should not be the prospect's only contact at your organization, however. Multi-dimensional relationships within the organization should be developed while one person oversees the relationship and takes responsibility for the strategic steps necessary to develop the relationship. The staff member assigned to the prospect should determine when and how to engage the prospect with others at the organization.
Review of Assignments: Regular review of prospect assignments and progress is a crucial component of a systematic major gifts program. Staff members should have a clearly identified goal for number of contacts, and those contacts should spread across the relationship continuum of discovery, cultivation, solicitation, and stewardship. Adjustments should be made to assignments based on fit with the staff member and to maintain a good balance of prospects.
Plan of Action: Contact with prospects should be purposeful. Relationship managers should have a well-developed and documented strategy to guide both short- and long-term prospect contact. Details about the relationship, strategy, and notes on key conversations should be captured and tracked in a prospect database.
Full Cycle: The relationship continuum should be not be ignored. Not all visits should be cultivation, nor should they all be solicitation. It is a fluid, circular process. After a gift is made, time should be spent on stewardship and further cultivation before building to additional solicitation.
Not every successful major gifts program will look the same; it is important to tailor these elements to your own organization's culture and fundraising priorities. However, creating a systematic major gifts program is worthwhile and putting a system into place now will pay dividends in the future.
Here are some other resources to help strengthen your major gifts program: