Boomers are moving toward retirement, Generation X is taking on greater leadership roles, and Millennials are accelerating their career development. As the next generation of leaders are introduced into nonprofit workplaces, they will bring with them new personalities, opportunities, and approaches to fundraising. Current nonprofit leaders have the opportunity to learn from the next generation, tailor their hiring strategies to attract and retain the best candidates and create successful onboarding programs.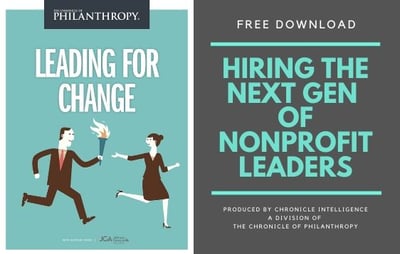 Recently, Johnson, Grossnickle and Associates (JGA) partnered with the Chronicle of Philanthropy to provide a curated collection of Chronicle articles and JGA insights on grooming future leaders, hiring fundraisers, and preparing for the next generation of nonprofit workers. We encourage you to download this collection of articles produced by Chronicle Intelligence, a division of the Chronicle of Philanthropy.
One important step in strengthening your advancement team is to reduce employee turnover, which is an area that often presents challenges for nonprofits. Frequent staff changes can tap limited resources, impact mission delivery and hamper fundraising.
Properly integrating employees into an organization's culture can, and does, significantly improve retention. However, too often organizations do not sufficiently engage their employees in their organizational ecosystem. Effective onboarding is much more than a meeting with the HR administrator and a tour of the office. Effective onboarding is grounded in the culture of your institution and takes time.
A well-planned and executed onboarding process serves several objectives, including:
promoting an understanding of the organization's vision, mission, culture, values and  strategic priorities;
building positive relationships within the organization;
reducing new employee anxiety (i.e.: sharing the unspoken office protocol);
setting performance expectations;
decreasing the learning curve; and,
motivating veteran members of the team to continue to learn and to embrace new
The key to success in the onboarding and retention of advancement employees is engagement in the vision and mission of the organization. It's not about raising money but rather about being a part of an important vision and mission.
More specifically, undertake the following actions when welcoming a new teammate to the advancement office.
Compile orientation materials that include:
the organization's strategic plan;
the role descriptions of leadership – both staff and volunteers;
case for support;
advancement plans;
job descriptions for everyone on the advancement staff;
organizational charts for the advancement office and the organization as a whole;
advancement performance dashboard; and,
office policies and procedures.
Arrange for a senior advancement officer to meet with the new staff member several times over the first few months to discuss the organization's history, culture, guiding principles, philosophy of development and how philanthropy fuels the organization's mission.
Assign someone on staff to serve as an onboarding peer to the new staff member to provide support and facilitate introductions to others in the organization.
Schedule orientation meetings with advancement staff members to have them explain their responsibilities and advancement objectives.
Schedule meetings with volunteers who know the organization well and the role philanthropy plays within it.
Schedule frequent meetings between the new staff member and her/his supervisor to discuss expectations, to review progress, and to assess the challenges and opportunities in the new staff member's area of responsibility. Regular feedback on job performance and suggestions for improvement are expectations of today's workers.
Provide opportunities for training and professional development.
Proper onboarding of new talent begins well before the first day on the job. Not only will it significantly improve retention, but it can also improve advancement results and its impact on the organization's mission.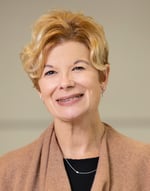 Angela E. White, CFRE, provides to JGA clients a high level of consulting expertise in philanthropy, strategic planning, data analysis, facilitation and presentations. Angela has been instrumental in JGA's success since 1996 and has served as CEO since 2011. Before joining JGA, she was the Executive Director for Institutional Advancement at the University of Indianapolis. She began her career at Saint Mary-of-the-Woods College. Angela currently serves on the Committee on Directorship for CFRE International and is a member of the Editorial Review Board for the Giving USA Annual Report on Philanthropy. She is a faculty member at The Fundraising School at the Indiana University Lilly Family School of Philanthropy and often presents on behalf of the Women's Philanthropy Institute.