The environment for charitable giving was favorable in 2019. Economic strength underpinned very positive giving patterns and precedes potential challenges that may occur in 2020, considering the economic, health, political, and social challenges prevailing to date. However, positive trends in 2019 help establish momentum and a strong base of support to which nonprofits can strive to return.
Giving USA Foundation has released annual estimates of charitable giving for 2019, showing that giving reached more than $449 billion amid a strong economy. Giving USA 2020: The Annual Report on Philanthropy for 2019  reports Americans gave $449.64 billion in 2019. This marks the third year of growth with the highest giving levels ever seen—over $400 billion—driven by individuals as the largest source of charitable gifts. Total giving reflects an increase of 4.2% in current dollars and of 2.4% in inflation-adjusted dollars from 2018. These numbers demonstrate a robust pattern of giving, bolstered by a strong economy.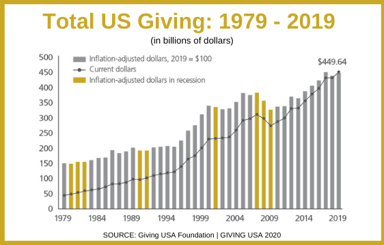 In addition to the impacts of the economy and other challenges this year, political giving trends may be another relevant factor. Historically, political giving represents a low share of all giving and has not had substantial impact on giving across subsectors—so the 2020 election is not anticipated to have a major effect. However, due to high engagement in advocacy, awareness of current issues, and unusual circumstances in 2020, this trend may shift in this election cycle.
Giving by sources reflected multiple trends to watch in 2020.
Individuals increased the share of giving by only 1%, but still gave $17.57 billion more than the prior year—tied in part to the role of megagifts and ultra-megagifts and giving to Donor Advised Funds.

2019 marked the first full year since the Tax Cuts and Jobs Act went into effect. One impact of the act is there are significantly fewer itemizers due to the standard deduction increasing. This is difficult to isolate specifically but is anticipated to result in a short-term drop in giving by this group—but may or may not result in a long-term trend.
Despite this being the second year of individual giving being below 70% of all sources, this source remains critical to fundraising strategy, and it will be important to maintain strong relationships with individuals. Individuals influence other sources of giving, such as family foundations and family-owned businesses.

Foundation giving is marked by consecutive increases in the dollars given for the nine out of the last ten years and continued growth in the share of overall giving by sources—totaling 17%.

In 2020, it is anticipated that foundations may drive significant support to immediate needs resulting from the myriad challenges emerging due to the economy and other emerging issues.
It is also notable that foundation giving typically lags the current environment, so foundation giving is not anticipated to drop as much as other sources may this year.

Bequest giving remained relatively flat but still comprised 10% of all giving. The total dollar value and share of all giving increased from 2018.
Corporate giving remained a relatively small share of the overall sources, yet still played an important role. Corporate giving has remained steady at about 5% of all giving over many decades, yet this measure may not capture all the support corporations give.

Corporations often provide significant support that may not be reflected through study of Giving USA, including volunteer mobilization, marketing support, and employee giving campaigns.
In 2020, corporate giving may drop—and employee giving, which is most notably given in support of United Way campaigns (categorized in Public-society Benefit), is likely to continue to decrease.
With strong growth, subsector trends suggest how these areas may fare in the current 2020 giving period. Two subsectors, Religion and Education, represent 22.2% of the subsectors tracked but cumulatively received 43%, or $192.28 billion of all dollars given. These and several other subsectors will be highlighted in greater detail on JGA's blog in the coming weeks.
2020 Fundraising Recommendations
Dr. Una Osili, Professor of Economics and Philanthropic Studies and Associate Dean for Research and International Programs at the Indiana University Lilly Family School of Philanthropy, discussing the report in a recent webinar, reflected that it is important for fundraisers to educate themselves about the current environment and learn how best to adapt to the needs and influences of the current time. She noted that organizations who make the pivot are already showing results, and donors have historically responded in times of crisis. Making the case for an organization and connecting with donors will be even more important and technology will continue play an increased role.
With Dr. Osili's thoughts in mind, here are a few fundraising actions that we recommend at JGA, based on Giving USA data, our experiences with clients, and in context of the pandemic and struggle for racial justice:
Keep engaging donors: Now is not the time to stop fundraising. 2019 giving results are proof of the generosity in America. As the economy ebbs and flows, people will want to be generous and will do so when they can—so make sure your organization remains top-of-mind while reflecting sensitivity to current events. Find new, creative ways to connect with donors, including adapting your events into new formats.
Demonstrate impact: Make a strong case for support. Keep in front of donors to support your connections and share your impact, particularly as it relates to the context of current challenges. Show donors, both numerically and by telling real stories, how your mission is having an impact and remains relevant with their help.
Diversify strategies: As giving by individuals remains the largest source of giving, yet other sources also increase or maintain their support, develop strategies to engage and seek support from each source—including bequest commitments—to stabilize your fundraising efforts. Consider how you engage mega-gift donor prospects and connect with younger generations and diverse populations of individual donors.
Utilize technology: As your organization has adapted to using technology during the pandemic, continue to utilize it not only to connect with donors but also expand in other ways. Technology is here to stay, and many donors who may not have embraced it may be more receptive to and familiar with using it now than in the past.
Measure: Track your fundraising activities in a systematic way so you can assess which strategies have the most impact to hone and refine future efforts.
We encourage you to download a free copy of the Giving USA 2020 highlights or order your full copy of the report at givingusa.org. You can also join us for a free webinar with Anna Pruitt, Managing Editor of Giving USA, on Thursday, June 18 at Noon EDT.
Giving USA 2020 : The Annual Report on Giving for 2019 is published by Giving USA Foundation, a public service initiative of The Giving Institute, and is the longest running and most comprehensive report on charitable giving in America. Giving USA is researched and created by the Indiana University Lilly Family School of Philanthropy. JGA is a member of The Giving Institute.