As we search for positive outcomes from the COVID-19 pandemic, we might note that our tech skills have improved, or maybe we've mastered a new way to do second-grade math. But certainly, other lessons learned could have a longer shelf life, like unexpected opportunities with donors and prospects or adaptations on the fly that actually seem to work!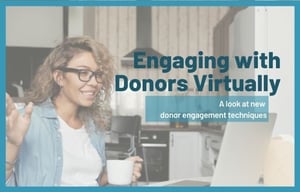 It is important to reflect on what ideas and practices have risen to the top as necessity forced us to try different ways to communicate and connect with one another. One thing is sure, large doses of flexibility and understanding were needed—and still are—to navigate the situations that seem to change by the minute in our professional and personal lives in the times we are in.
I recently hosted a webinar with Melanie Harmon, Senior VP of Advancement at Manchester College, focused on Frontline Fundraising and Events Go Virtual: A Look at Donor Engagement Techniques that explored some takeaways from the past few months for our work with donors. Here is an overview of some of those lessons and ideas on incorporating them into our work in the months and years to come.
Within a few days of the onset of shelter-in-place mandates, most of us were stumbling our way into a new normal, adapting to juggling family obligations alongside work obligations as best we could. As the work of contacting donors again resumed, development staff wondered how to check in with an appropriate mix of professionalism and concern. JGA clients noted that donors were genuinely excited to hear from gift officers to learn what was going on in the organization and how it was weathering the pandemic—and even how they might help. Initial awkwardness melted away and conversations moved seamlessly from family to business—and rapport was re-established.
Stewarding those donor relationships has been the key driver for interactions during this time—showing donors that you care about them and want to stay in touch, just because. At Manchester, Melanie shared, advancement team members connected with every donor in their portfolios over the last few months. Initially, she pointed out, it often felt like a delicate conversation with donors, because you couldn't know what they were facing prior to that call.
JGA consultants also found that many of our clients just needed to talk and appreciated that we reached out to them to check in and offer assistance. Clients opened up about the challenges they were facing and uncertainty about the future. As time went on, the comfort level with communicating virtually increased for all.
In late April, many gift conversations seemed to restart—and staff members began making discovery calls again —with good results! In fact, some organizations reported a higher rate of success than typical before the pandemic. In some cases, donors seemed to be more comfortable with the video format than an in-person visit. And overall, there was definitely a true curiosity for how the organization was doing, which forged a natural connection to kick off conversations.
Philanthropy is not cancelled.
Perhaps the most important lesson learned during the past few months is that philanthropy doesn't stop in time of crisis. In spite of the crazy circumstances, donors and prospects alike were receptive to hearing from organizations and learning what was happening. A few broad lessons include:
Your mission is still critical. You can't wait out the crisis and be successful.
Your agenda may not be the most important one at the moment. This is always true —not just during a pandemic—but this situation brings the importance of listening to your donors to mind even more.
Donors want to know what is going on. They want to hear from you.
You need a break from constant calls/meetings. You can provide better attention and quality thinking if you are not mentally exhausted!
You can do hard things! It is amazing what you can do in a short timeframe.
A new appreciation for donors. They are a part of your lives and the life of the organization.
The power of human connection is strong—whatever the method of contact.
Donors want to see organizations succeed. They understand the need, urgency, and the impact their gifts have.
You can embrace new technologies—who knew? Applications like MS Teams, Zoom, BombBomb, Thankview, and others emerged as important tools.
Making Lemonade Out of Lemons
Out of necessity, organizations came up with new ways of engaging donors, adapting from in-person mode to social distancing and virtual methods of contact. That adaptability and familiarity with these ideas will position organizations well for the future.
In terms of major gift fundraising, organizations were able to adapt new processes and find efficiencies in the midst of stress and change. Some teams found that there was time to be more strategic and creative in their work. Metrics around visits needed to be counted differently in this environment, but certainly the visits needed to continue. Shifting to electronic forms for gift documents is working and allowing flexibility with pledges will be helpful for donors. Some organizations found this to be a good time to consider opportunities to prioritize work with donor-advised funds. Donors may continue to use these funds to support organizations over the next six months when others without that flexibility may not.
Events have posed a huge challenge for organizations and decisions continue to be made and revised about them at this time. Cancellations and rescheduling became the norm, sometimes multiple times, causing frustration all around. However, quick and difficult decisions resulted in creative alternatives delivered virtually—and many have worked surprisingly well. Organizations learned to remain flexible and to have plans A, B, and C in place! Manchester worked hard to meet donors where they were and is seeing success. For instance, Manchester chose to host a giving society event on Zoom which allowed the chance to include people nationally instead of regionally in an on-campus event. We also saw organizations get creative with online auctions, video testimonials, drive-in graduations, and car parades.
The most important takeaway for nonprofits is to just stay the course. Philanthropy hasn't stopped. Donors and prospects are still interested in your organization. They may not be ready for an ask today but staying in contact is crucial. It is a time to be flexible and creative—but still stick to your process. Your mission remains just as important, if not more so.