While we need to work to engage all of our donors, many nonprofits have experienced the benefit of an influx of new donors in response to the pandemic's challenges. What can you do to engage and retain these new donors as well as deepen your relationships with your existing donor pool?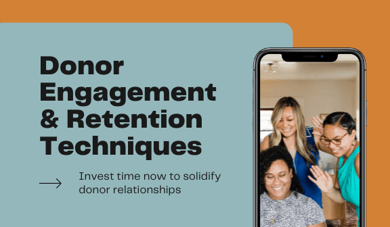 Donor Engagement
While we are operating in unusual times, you do not want to throw out your tried-and-true ways of engaging and stewarding your donors. But, you might consider adding the following strategies as well.
Personal connections: Think creatively about how to create personal connections with donors, such as engaging with donors via FaceTime to capture a specific meaningful moment at your organization. Engage board members, leadership team members, volunteers, and other donors in thank you calls. Hearing from someone new will expand donors' connections and engagement with your organization.
Technology techniques: Using technology to your advantage has hopefully become easier than ever over the past year. There are multiple platforms that can be very effective with donors who are now more familiar with different means of communicating. Tell your story from the perspective of those you serve—send short video messages telling the story of how lives have been changed by gifts from generous donors. You might also share short "day in the life" videos from the heart of your organization—such as the teacher, direct care staff, curator, cook—to give a glimpse into real-world impact.
Peer engagement: Encourage peer-to-peer fundraising or use third-party events to deepen engagement and spread your reach. Personal referrals will never go out of style. Identify donors who can advocate on your behalf to reach out and engage new donors. This will create an additional touchpoint and provide a way to ask for additional support from a peer or for a specific program.
Donor Retention
Research from the Fundraising Effectiveness Project indicates first time donors only donate again about 20% of the time. However, if a donor makes a second donation, the chance of them continuing to contribute is 60%. Invest in new donors now, because retaining a donor for multiple years will more than make up for the initial investment.
Welcome them: Work quickly to welcome and engage new donors as soon as they make their first donation. Create a welcome plan for new donors, that goes beyond a welcome packet. Within 48 hours of their gift, send sending a thank-you card or a handwritten note from a leadership staff or volunteer. Then, continue to reach out with special touches throughout the year—maybe a personal email with a picture or short personal video clip.
Create a connection: Create high levels of buy-in from your donors by building their sense of investment in the organization. Follow up to promote opportunities for them to get involved in a non-monetary way, such as volunteering. Volunteers are among the most motivated donors. Develop ways to engage volunteers remotely during the pandemic, if possible, but also just make sure you stay in touch with your volunteers now so that when it is safe to return to in-person volunteer activities, your donors are still engaged and committed.
One way to stay in touch is by offering them opportunities to give feedback. Ask for their advice via an electronic survey, email exchange, or phone call. Allow donors to openly share what motivates them to give and use that information to identify potential gaps in your program. One caution though, be prepared if you ask for feedback, to act on it and implement changes as needed.
Plan for their next gift: Create a "second gift" strategy for new donors before the one-year anniversary of the first gift. Many organizations mistakenly wait until the first-year anniversary of a gift before reaching out and asking for another gift. While acknowledging the anniversary of a gift is a great strategy, don't let that be the first-time new donors hear from you again.
To help retain donors, it is also important to make giving easy. First and foremost, you need to make sure your online donation page is mobile responsive and user-friendly. Then, make sure you offer donors a recurring gift option and tell them how a consistent gift can benefit those you serve. You can also promote low dollar amount gifts ($5 to $15) to re-engage first-time donors and encourage them to give regularly.
Matching gifts are not just for major gift programs or capital campaigns, they can also be very effective in retaining new donors. Secure a challenge gift from one of your long-time supporters to encourage new donors to give a renewal gift or enter a monthly giving society.
Finally, think through how you can identify those new donors who may have the potential to make a major gift if cultivated and engaged properly. Make sure you conduct electronic screening on new donors you may have gained over the past year. Determine if any should be assigned to a major gift officer for more personal engagement.
If you put in the work early on to retain and engage new and existing donors, they will stick with you when it counts.