2020 was a year like no other. Despite the challenges and unpredictability that occurred, giving maintained the normal overall pattern of year-to-year growth and reached the highest total in history.
Giving USA Foundation has released annual estimates of charitable giving for 2020, showing that giving reached more than $471 billion. Giving USA 2021: The Annual Report on Philanthropy for 2020 reports a fourth year of growth, with the highest giving levels ever seen. Total giving reflects an increase of 5.1% in current dollars and 3.8% in inflation-adjusted dollars from 2019. Despite broad instability, growth remains driven by individuals—including bequests—supported by strong growth in foundation giving.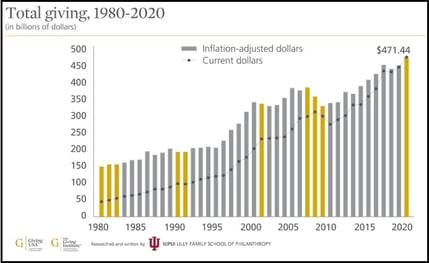 Three main topics influenced giving significantly: the COVID-19 pandemic, racial and social justice movements, and economic need. Giving to political campaigns is not included in Giving USA, but it is unlikely that political giving takes away from charitable giving.
Giving by sources highlights the following key trends in 2020:
Individuals gave 2.2% more than in 2019—tied largely to the continued outsized impact of megagifts and giving to donor-advised funds. While this was the second year of individual giving totaling less than 70% of all sources, individuals remain the dominant giving source by far. Individuals also influence other sources of giving, such as family foundations, donor-advised funds, bequest gifts, and family-owned businesses.
Foundation giving notably increased 17% and is marked by consecutive increases in the dollars given for the past ten years and continued growth in the share of overall giving by sources—reaching 19% of all contributions in 2020. The stock market was strong, which supported continued giving from both foundations and individuals.
Bequest giving grew by more than 10% and comprised 9% of total contributions. The total dollar value and share of all giving from bequests increased from 2019.
Corporate giving decreased by 6.1% and totaled just 4% of all contributions. Corporate giving—which includes cash and in-kind contributions made through corporate giving programs and grants and gifts made by corporate foundations—reflected impact of the unsteady economy due to the pandemic.
Giving to seven of nine charitable subsectors grew; Religion, Education, and Human Services remained the top three subsectors, receiving 57% of all contributions. Religion received 28%, Education received 15%, and Human Services received 14% of all contributions. Health and Arts & Culture were the only subsectors that declined, by 3.0% and 7.5%, respectively.
2021 Fundraising Recommendations
Reflecting on this new Giving USA data, our experiences with clients, and in context of the current environment, JGA recommends the following strategies to grow philanthropy.
Keep engaging donors: Giving doesn't stop during a crisis and neither should your donor engagement activities. Continue to apply the best of lessons learned while engaging donors during the pandemic. Focus on retaining current and new 2020 donors—your best candidates for future gifts. And, continue to cultivate strong major and lead gift prospects.
Tell your organization's story: Showcase the role of philanthropy at your organization—and how donors rose to the challenge to meet the need and make a difference. Create a message platform to support various communication channels—focused on the need and stories of impact. Explain how your mission continues to be critical—what is different now and why philanthropy remains essential.
Diversify strategies: Develop or expand your planned giving program and the opportunity for donors to make blended gifts. As funders desire collaborations among organizations to solve big challenges, consider what organizations are well-aligned with your mission and the problems you solve and build collaborative funding requests. Understand the role of donor-advised funds as a means of giving from your individual donors.
Emphasize online giving: Online giving reached an all-time high in 2020. Invest in making online giving, including recurring giving, an easy, rewarding experience—and promote it well.
Data: Track and share data to show the ROI of your mission. Measure, monitor, and adjust fundraising strategies based on data collected. Also, utilize data to identify the highest capacity prospects for strategic cultivation efforts.
We encourage you to download a free copy of the Giving USA 2021 highlights or order your full copy of the report at givingusa.org. You can also join us for a free webinar with Anna Pruitt, Managing Editor of Giving USA, on Wednesday, June 16 at Noon EDT.
Giving USA 2021: The Annual Report on Giving for 2020 is published by Giving USA Foundation, a public service initiative of The Giving Institute, and is the longest running and most comprehensive report on charitable giving in America. Giving USA is researched and created by the Indiana University Lilly Family School of Philanthropy. JGA is a member of The Giving Institute.