A week ago Friday, I posted my first blog about COVID-19 and the impact it might have on nonprofit  philanthropy. A lot has changed in the past week – seemingly by the hour.  As you continue to navigate these complex waters, let's first take a look at some historical data to see how philanthropy weathered the storm of other crises.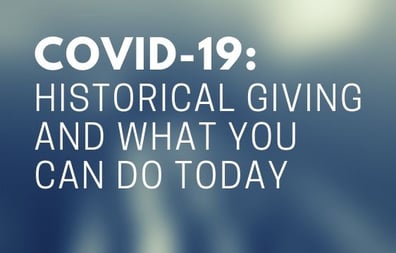 The Data
Unfortunately, there is no philanthropic data from the 1918 Spanish flu pandemic, so we have to look at the next most relevant set of data. The research from Giving USA and the Indiana University Lilly Family School of Philanthropy help us understand how donors behave during a time of crisis and also during an economic downturn.
During 2017 and 2018, 78% of households that gave to disaster relief efforts reported that this giving had no effect on their giving to other causes. Lesson learned: donors who choose to support direct COVID-19 response efforts and/or direct services still care about your mission and will continue to support you even if the timing or gift levels shift.
Additionally, research shows us that daily fluctuations in the stock market did not predict changes in household giving. Changes in household giving were more closely related to year-end to year-end variations in the stock market. Lesson learned: don't assume that donors are making gifting decisions based upon the immediate impact of the economic downturn. A link to this data as well as additional important insights can be found in a blog written by our colleagues at the Indiana University Lilly Family School of Philanthropy.
What to Do Today            
In my bog last week, I wrote about meeting donors where they are, redesigning events, and keeping your team together. Here are some practical tips under each area:
Meeting donors where they are– Select the best way to communicate with your donors based upon generational differences. Older donors may be more isolated – call them, use facetime, and/or send videos for more human contact. GenX donors are juggling concern for their aging parents, as well as kids at home from school, and work obligations – send a brief email or text. Millennials are communicating with their peers – text them as ask them to share the message with those in their peer group. Utilize your boards (directors, alumni, advisory, campaign cabinet) to reach out to donors to extend a positive message and see if they need any assistance.
Redesigning events – On the date of a cancelled or reschedule event, utilize FaceBook Live, Google Hangout, or other options to connect during that time to create a virtual connection. In addition, use technology such as Thankview to create short videos to send to targeted event constituencies to share a special message from the CEO and to stay connected.
Keeping your team together – Working from home can be a lonely experience for many, especially since we don't know how long this new work environment will last. Create scheduled check-in calls with your team and, even better, use technology to videoconference with your team. At JGA, we are scheduling a 4pm happy hour each Friday to have a casual way to connect with each other and see each person's home workplace (kids, dogs, cats, favorite snack and beverage, etc).
I'll be back with more thoughts in the days ahead. Until then, be well!