Life is full of opportunities and challenges, and we certainly faced our share in 2020. However, not everything we've gone through in the last year is negative. There are some lessons learned we may want to keep – opportunities to capitalize on in the future. It is important to learn from each challenge so you can prepare, mitigate, and more easily turn the next challenge into an opportunity. That's called resiliency. It sounds easy—but let's be honest: it isn't.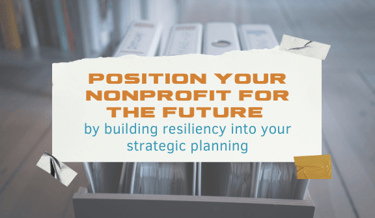 Resiliency is the ability to recover from a setback, adapt to new challenges, and keep going in the face of adversity. In a nonprofit, as a staff or volunteer leader, one of the best tools to foster resiliency no matter what is thrown at your organization—internally or externally—is a strategic plan, which:
provides a road map to lead your organization from where you are now to where you would like to be in the future;
sets priorities and focuses your organization's resources; and
establishes measurable goals and a template to evaluate progress and adapt to a changing environment.
On a recent JGA webinar, I shared six tips to help you create a resilient organization by building resiliency into your strategic planning.
Prepare for the unexpected: Include learning sessions at the beginning of your strategic planning process to provide the knowledge you need to make your organization more resilient.

acknowledge internal and external threats,
consider different scenarios and plans,
stay informed about trends, and
identify lessons learned.

Concentrate on the customer experience: For nonprofits to be resilient, it is important to think about who your core "customers" are and who your potential "customers" might be as you think about implementing your mission and opportunities for growth.

provide excellent customer service,
help your customers (constituents, donors, etc.) make their lives easier,
and anticipate their needs.

Find a niche: Finding your niche doesn't mean staying stagnant – or just doing what you've always done. This is where your mission statement is key. Let it serve as your anchor in this process.

establish what is unique about your organization and bolster your special traits,
strengthen and create partnerships, and
continue to strengthen financial sustainability.

Invest in good tech: Put technology in place to implement a business continuity plan to make your organization resilient and to best position yourself to implement your strategic plan.

put the right technology in place,
ensure technology helps you, and
don't spend time doing tasks that take you away from your constituents.

Cultivate a productive work culture: The values section of your strategic plan is key to strengthening your work culture and helping you build resiliency. Keep those values central to your future planning and invest in your people as they are the ones who are going to make your strategic plan a reality.

build a resilient culture through open communications and trusting relationships,
prioritize learning opportunities, and
foster team building.

Give back to the community: In your strategic plan, make certain you have embedded opportunities for staff and volunteers to touch and feel your mission, so they understand their role in giving back to the community and supporting the important work you do.

provide opportunities for staff and volunteers to engage with the mission,
serve the community, and
be transparent to foster trust in your organization by stakeholders and the public.
You can learn more about weaving resiliency into your organization's plans by listening to the complete Nonprofit Resiliency and Strategic Planning webinar recording. If you'd like to discuss undertaking a strategic planning process, creating a short-term plan tailored to your changing environment, or gathering strategic intelligence to inform decision making, we've put together a list of special fast-track packages to help you in 2021.